"The exotic spices, nuts, fruits, vegetables, plants
and insects of St. Lucia"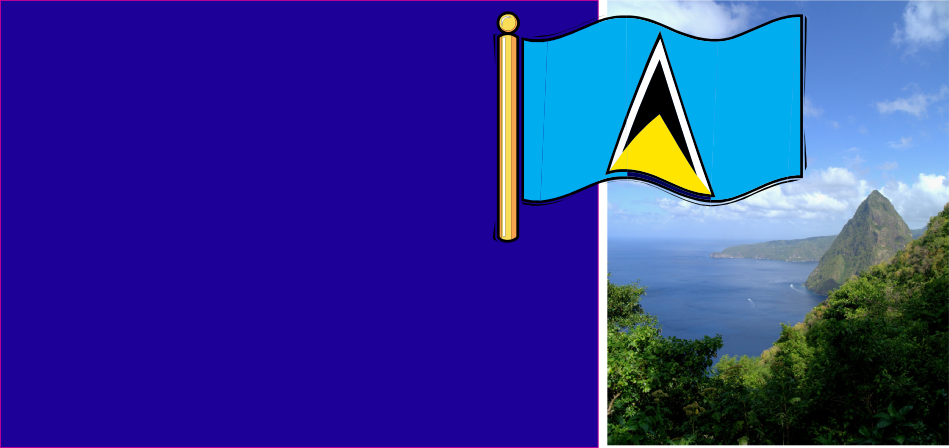 The blue colour of the national flag represents fidelity; the tropical sky and the emerald sea.
The gold represents sunshine and prosperity.
Black and white stand for the cultural influences - the two races living and working in unity.
The triangle, represents the twin Pitons, rising sheer out of the sea, - a symbol of the hope and aspirations of the people.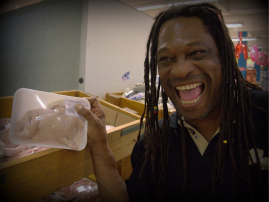 Your kitchen spice rack will have new relevance after experiencing this talk
and it also has relevance to Historical societies.
Pictures are annotated with plant names and historical notes making it a relaxing talk to follow and enjoy.
The national flag of St Lucia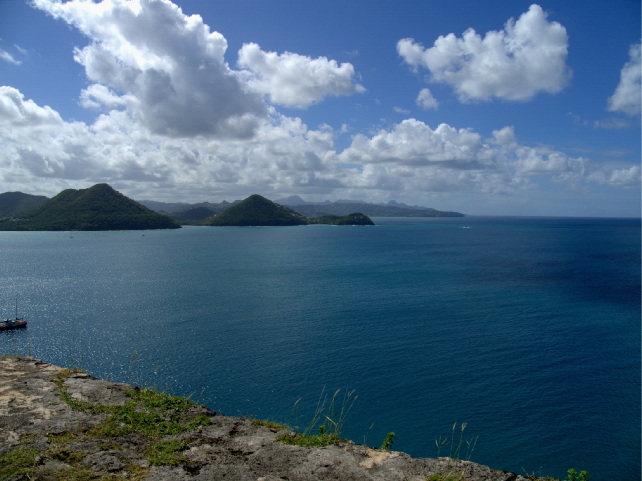 Topics covered include;
Coconuts
Bananas
Cassava
Yams
Breadfruit
Akee & Papaya
Cashews
Almonds
Nutmeg
Cinnamon & other spices
Vanilla
Climbers
Insects
Birds
People
Slavery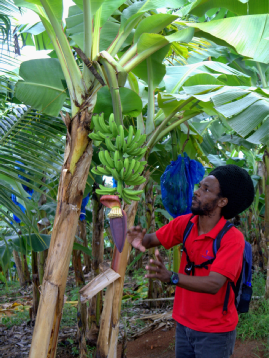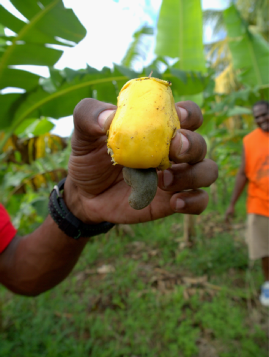 Cashew nut with cashew apple

During the American revolutionary war, King George III considered the island of St Lucia (a little bigger than the Isle of Wight) as more important to protect Britain's commercial interests in sugar from the French, than the prosecution of the war in the thirteen colonies. He diverted thousands of troops and naval ships from the American eastern seaboard to St Lucia -- a factor in the UK losing the war.

Above is the beautiful view from Fort George, where a cannon (possibly made in Glasgow) with George III's crest still discernible overlooks Rodney bay.
The mutiny on the Bounty is also mentioned as captain Bligh was charged to bring breadfruit from Tahiti to the Caribbean as a source of cheap slave food when he was cast adrift. As a brilliant navigator he survived. And his name lives on! Blighia sapida, the Jamaican akke fruit is shown, named after Captain Bligh who brought a specimen to Kew.
We look at a derelict sugar crushing mill, made in Glasgow, abandoned, remote and in amazing condition. And you get to see our highly knowledgeable Rastafarian guide let his hair down! His ancestry possibly from slaves of one Lady Hanna James is speculated. She was compensated with c.£20K per slave in St Lucia in today's money.
The education system is discussed and using published census data over decades you see that one child families are now common. Why? Parents have to pay for their children's education. And they have to go to school.
So there is a lot of interest for historians too, and you get to learn how to survive on a desert island and safely eat toxic cassava.